Past Venues
Horseshoe Bay Resort— Lake LBJ
Comanchee Trace CC— Kerrville
Onion Creek CC—Austin
Riverhill CC—Kerrville
River Crossing GC—San Antonio
Lakecliff CC—Spicewood
The Hills CC—Lakeway
Escondido CC—Horseshoe Bay
Canyon Springs GC— San Antonio
Twin Creeks CC—Austin
Avery Ranch GC—Austin
University of Texas GC—Austin
Cimmaron Hills CC— Georgetown
Flintrock Falls GC—Lakeway
Teravista GC—Round Rock
Falconhead GC—Bee Cave
Many, Many More
Event Registration Entry Form
Hill Country MGA: A History
In May 1997 the vision was conceived by two men, John Redden and Buddy Schraeder, during a 4 hour drive back to Horseshoe Bay from the Byron Nelson PGA Tournament.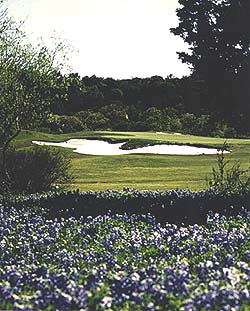 Horseshoe Bay was experiencing a population growth and the Texas Hill Country was experiencing a golf boom with courses like Flintrock Falls, Cimmaron Hills, and the Fazio Canyons courses coming on line in the Austin Area on the heals of San Antonio's golf boom. Being less than an hour and a halfs drive from both Austin and San Antonio, Horseshoe Bay was the perfect place to create the association.

Originally open to only Horseshoe Bay Golf Members in 2006 it was opened up to all men golfers with a Texas Hill Country permanent residence. As of last year we were approximately 145 members strong and growing every year.

Each year we conduct 3 events in the spring and 3 events in the fall followed buy our HCMGA match play tournament at Horseshoe Bay Resort. Every event is located within the Texas Hill Country in an area defined by Georgetown, San Antonio, Kerrville, and LLano.